Boston Native to Make Third Truck Start of 2023
MOORESVILLE, N.C. (July 12, 2023) — TRICON Garage (TRICON) announced today that Kaz Grala will return to the seat of the No. 1 Toyota Tundra TRD Pro for Pocono Raceway. Serial 1 E-Bikes will serve as the primary partner for Grala's third NASCAR Craftsman Truck Series (NCTS) race of the 2023 season.
Serial 1 is a US-based E-Bike brand inspired by the entrepreneurial vision of Harley-Davidson founders and the revolutionary impact of their first motorcycle, affectionately referred to as Serial Number One.
In his two previous starts behind the wheel of the No. 1 truck this season, Grala finished 17th at Las Vegas Motor Speedway and ninth at Circuit of the Americas in March. The full-time Xfinity Series regular has two truck races to his credit at the 2.5-mile tri-oval with those starts coming in 2017 and 2022.
"I am looking forward to making another start with TRICON at Pocono," said Grala. "We showed speed in the races we ran together earlier this year, so I am optimistic that we can put together a great showing. I need to thank Carl Ruedebusch, Dion Reif, and the Serial 1 Dealer Network for coming on board and giving me the opportunity to drive the No. 1 again."
"After researching Kaz's resume of racing accomplishments and spending time with him at the track the last few months, I have gathered a greater understanding of his approach to racing. It was obvious to me that we wanted to sponsor him and go for a win!" said Chairman and Chief Operating Officer of Serial 1 Dion Reif. "In addition, we wanted to promote an amazing charitable cause, by partnering with Little Bricks at "The Tricky Triangle." The non-profit is a transformative organization dedicated to uplifting the spirits of hospitalized children, which hits home for me and my family as well as our Serial 1 team members."
"We are so excited to be teaming up with Serial 1 Premium E-Bikes to build BIG smiles on hospitalized kids across North America. Dion and Serial 1 have stepped up with a generous donation, and now sponsorship support as well as some of their amazing products. I can't wait to ride up to our first children's hospital on my Little Bricks Serial 1 E-Bike with LEGO sets in tow!" said Russell Cassvah, President & Founder Little Bricks Charity.
Grala's Tundra TRD Pro will also promote a charitable cause, partnering with LittleBricks at "The Tricky Triangle." The non-profit is a transformative organization dedicated to uplifting the spirits of hospitalized children. Its mission is to enhance their mental health through brand-new LEGO® Sets and immersive custom LEGO® Build Experiences. The nonprofit has an extended reach to over 10,000 children across more than 40 children's hospitals nationwide.
The CRC Brakleen 150 at Pocono Raceway will be televised live on FOX Sports 1 at 12:00 p.m. ET on Saturday, July 22. Radio coverage will be provided by the Motor Racing Network and SiriusXM NASCAR Radio.
To learn more about Serial 1 E-Bikes, or if you're Interested in joining our Nationwide Dealer Network, you can find out more by visiting www.serial1.com. Fans can follow along on Twitter and Instagram at @Serial1Cycles as well as follow Serial 1 on Facebook.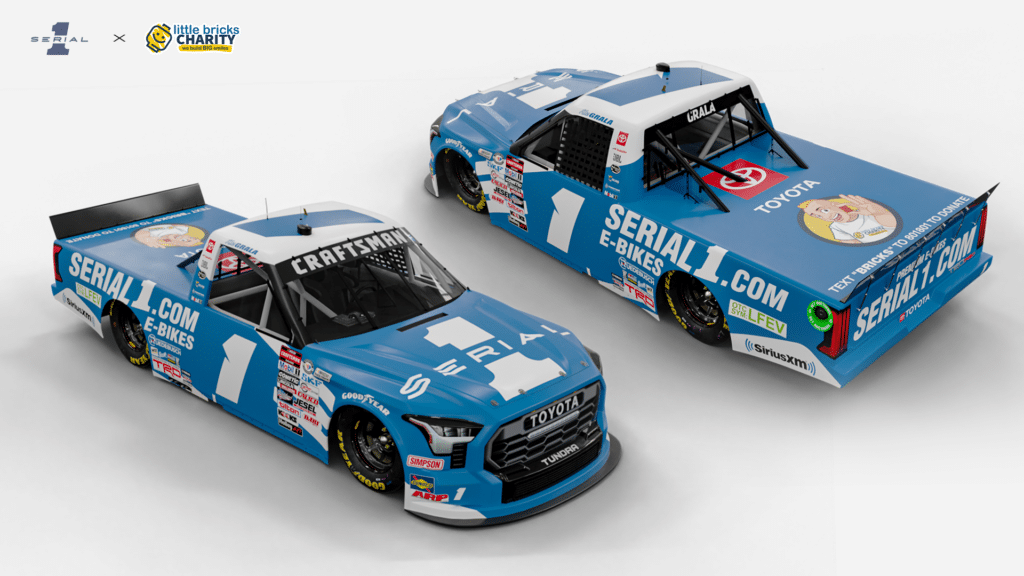 About TRICON Garage
TRICON Garage is Toyota Racing Development's flagship NASCAR Craftsman Truck Series organization. Under ownership by former NASCAR veteran David Gilliland and businessman Johnny Gray, TRICON is actively involved in three different industries – racing, fabrication and transportation. The team operates out of three buildings totaling 60,000 square feet in Mooresville, North Carolina.
About Serial 1
Serial 1 offers premium E-Bikes that are guided by intelligent, human-centered design and crafted using the most advanced bicycle technology available, to create the easiest and most intuitive way to experience the fun, freedom, and instant adventure of riding a pedal-assist electric bicycle. Serial 1 is currently under contract to merge with an affiliate of Life Electric Vehicles, Inc. (Life EV), bringing E-Bike manufacturing to the USA.
About Life EV
Life EV is a USA-based corporation, involved in the design, manufacturing and commercialization of electric vehicles, with a current emphasis on electric bicycles. Life EV manufactures its products utilizing free-trade zone processes in Broward County, Florida with a United States Certificate of Origin. Life EV through its affiliates, including Life Electric Vehicles Holdings, Inc. (OTCPK:LFEV), was established to support and grow the E-Bike industry, bringing manufacturing jobs back to the USA.